Pin It
The layers in this cake are the best looking ones I have ever made. So crisp!
I have yet to bake anything truly decadent. Something so sweet that it makes you feel guilty just looking at it. Chocolate and vanilla seemed like a fitting combination that would satisfy my craving for pastries. This can also serve as my one year anniversary celebration cake for Rummy Tum-Tum, though I am about one month late on that. How could I have possibly skimmed over such an important landmark!? Next year I'll be prepared to throw some confetti and blow up some balloons on the right day. The epiphany struck me as I was making the batter, so I took the initiative to decorate it. I also have terrible spring fever, so I went bold with the colors! Vibrant red was just calling me. I want to see the flowers bloom and warm weather to bathe in! Winter wasn't at all harsh this year, but I am antsy for the change of the seasons.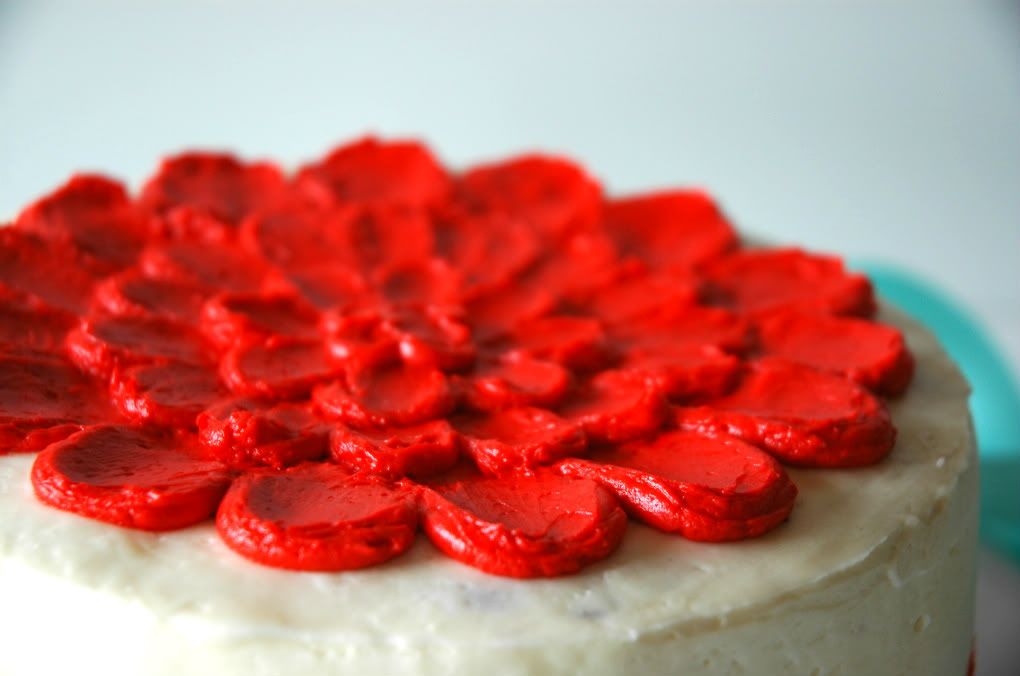 I initially wanted to have 8 layers in this cake, but there were so many crumbs after leveling the cakes off that I had enough of it. I despise crumbs. They're so pesky to wipe off the counter, and the world simply ends when they mix into the buttercream!
Surprisingly, this cake had me tied up in the kitchen for less time than the cupcakes last week. Check those out here! Basic cake and buttercream, with a little love and attention, can be transformed and molded into a slightly extravagant dessert. You literally dump all the cake components into a bowl, mix, and bake. Simple as that.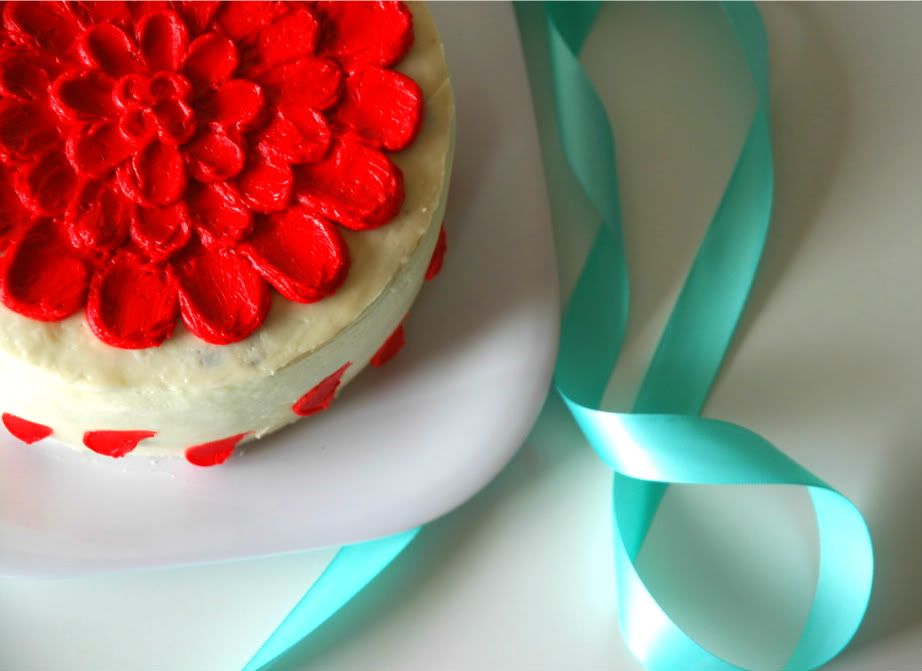 The school club I'm in is very big on helping the community, so we handed out sandwiches to hobos near the school during this week's meeting. It's amazing how appreciative they were to receive organic, all-natural, whole grain peanut butter and jelly sandwiches. It seems as if everyone at school and the city are health nuts. There is a health food store on every block it seems. We not only gave the homeless people food, we gave them a nutritious and heart healthy supplement to their day. I also still can't believe I only have 3 months of school left. This year went by so fast! High school memories will soon be replaced with the experiences of college. Hurray!
I wish I could have blown out the candles on a cake like this when I was younger. So much nicer than those scary barbie cakes from Wal-mart. They're terrifying. Why kind of baker contrived this idea? Why kind of kid begs their mommy for a piece of cake with a plastic doll shoved into it? It's almost as creepy as those people who order custom cakes sculpted in the shape of their dogs. When you eat it, you have to cut into it, so essentially you're carving your dog up and consuming it with a sheepish grin because the cake tastes good. Or cakes that have family pictures printed on them. That's disturbing too. Imagine a little kid saying, "Look mommy, I'm eating Aunt Suzy's eye!" I shall not judge though. Eat whatever shape, size, or type of cake that floats your boat, but please just eat cake that tastes good! Enjoy!
Decorating Tutorial
You'll want to fill and dirty ice your cake. Then go back with another layer of buttercream to create a smooth surface.

Dye the remaining buttercream any color that your please, and then transfer to a piping bag with a round tip.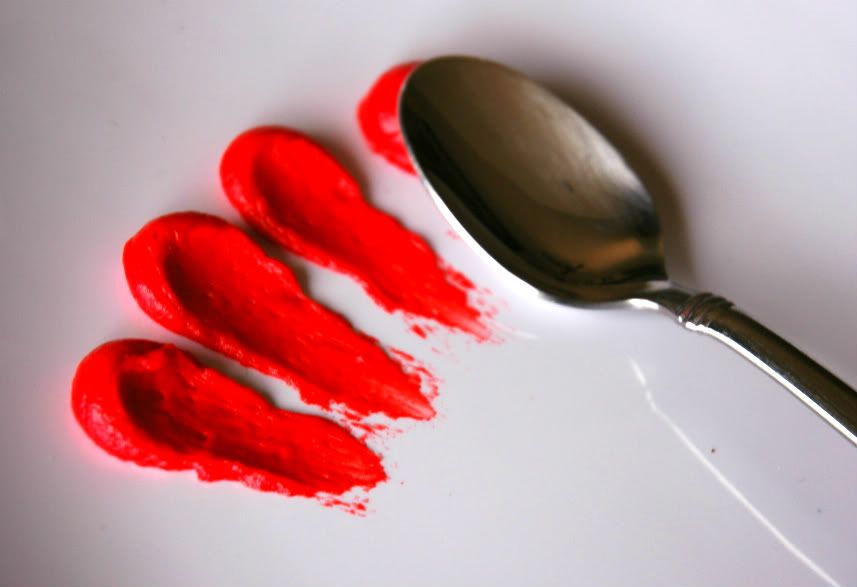 Starting from the edge, pipe dollops equal in size. Then take an off set spatula or a spoon, and with a sweeping motion, smooth the mounds of frosting.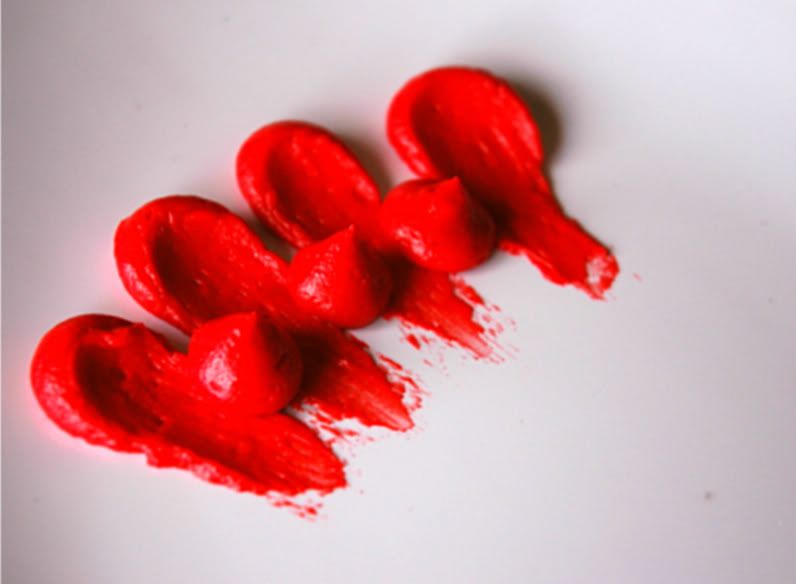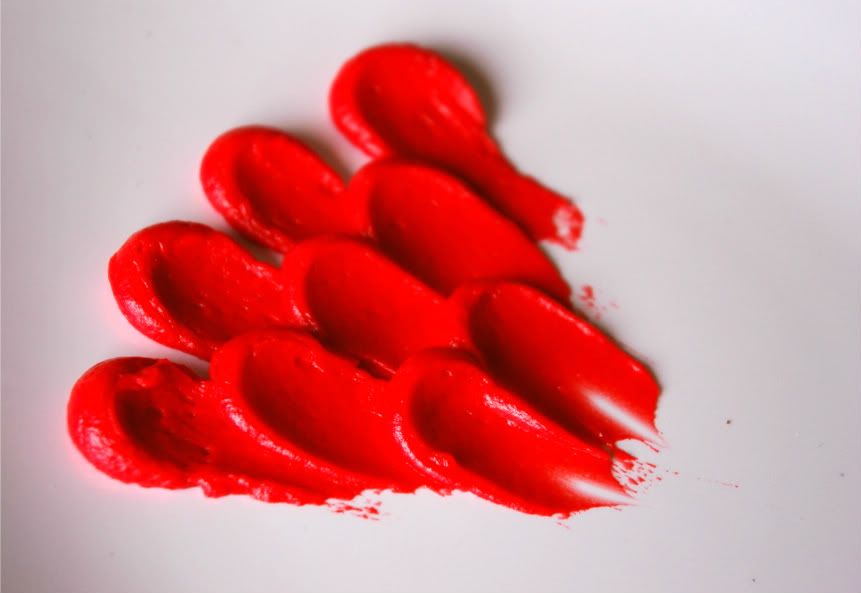 Continue piping concentric circles of frosting and repeating the process above until you reach the center.
Rich Chocolate Cake
From Sweetapolita
INGREDIENTS
1 3/4 cups all-purpose flour

2 cups granulated sugar

3/4 cup cocoa powder

2 teaspoons baking soda

1 teaspoon baking powder

1 teaspoon salt

2 eggs

1 cup strong black coffee (can be hot)

1 cup buttermilk, room temperature

1/2 cup vegetable oil

1 tablespoon pure vanilla extract
DIRECTIONS
Preheat oven to 350 degrees Fahrenheit
In bowl of electric mixer, sift all dry ingredients.
Add all remaning ingredients to bowl with the dry ingredients and with paddle attachment on mixer, mix for 2 minutes on medium speed. It will be liquidy.
Pour batter in pans lined with parchment paper and bake until toothpick inserted in the center comes out clean.
Easy Vanilla Buttercream
From Magnolia Bakery
INGREDIENTS
4.5 tablespoons all-purpose flour

1 1/2 cups milk

1 1/2 cups unsalted butter, room temperature

1 1/2 cups sugar

1 1/2 teaspoons vanilla extract
DIRECTIONS
In a medium saucepan, whisk together the flour and milk until smooth. Over medium heat, and whacking constantly, cook until the mixture becomes thick and begins to bubble. Cover surface with wax paper and allow to cool to room temperature.

In a large mixing bowl, beat butter until smooth and creamy on medium high speed. Gradually add the sugar, and beat until fluffy. Add in the vanilla and beat well.

Add in the milk mixture and continue to beat on medium high speed until smooth and whiter in color. Cover and refrigerate for 15 minutes. Use immediately.