Pin It
Blood oranges are in season during the winter, and I was able to find these guys at Target surprisingly for $3.99 for a 3 pound bag. My local farmers market didn't carry any, nor did the Whole Foods down the street. Out of all my grocery stores that I have access to, I put Target at the bottom of the list for the likelihood of finding blood oranges. More points in my book for Target since they carried these for a decent price! I wonder if Walmart has blood oranges in stock as well. I was about to go after school, but that would be procrastination to the extreme, even if two of my exams are delayed until next week.
I love my older sisters. They spoil me to death, and I can mess around with them as if they were my younger siblings. My oldest sister, however, is a complete disaster in the kitchen. I should just ban her. That's a dangerous place to put someone who is down right clueless. We made some stir-fried noodles for lunch, and I have a heartfelt message for her. Sister, you have to boil the water before you dump in the noodles. Oh right, you also have to cook the noodles before you can eat them. Enough said. I will commend her for her impeccable mastery of the art of scrambled eggs though. She's got that down to a science!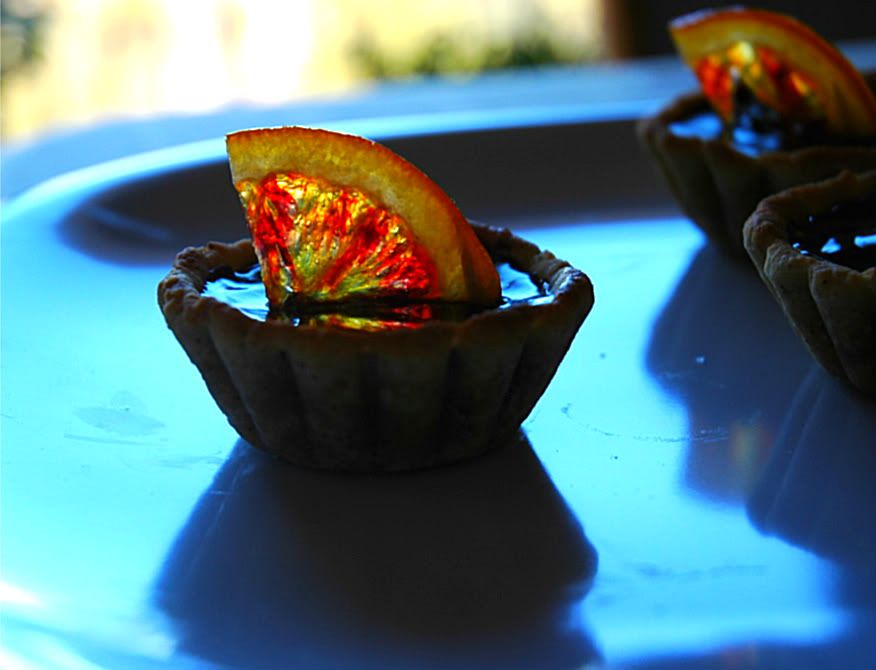 Hate the lighting of the rest of the picture, but the orange slice looked so pretty.
This recipe is pretty simple in my opinion because there's no special technique when combining the ingredients. I had a vision of a liquid center oozing out of the tart when you bit into it, but it took me a while to figure out how to execute it. I ended up freezing the syrup in my mini cupcake tins lined with plastic wrap. Silicon molds would have been a luxury, but I made do. The only thing I would foresee any compilations is knowing when the custard is thoroughly cooked, but not overdone so that it is no longer creamy. The surface shouldn't brown at all, both for aesthetic and textural reasons. When you take these out of the oven they will jiggle a lot, but when they are chilled, the filling sets up into a firm, smooth, luscious custard. It's also a plus that the amount of ingredients is pretty minimal and simplistic when evaluating the number of components that went into these tarts. The only things I really needed to buy were the oranges and chocolate. Talk about a breeze! They tasted pretty good, I liked how the liquid center was slightly bitter to compete with the very sweet custard. I may make a variation of these with a cheesecake custard and possibly a chocolate center.
The rundown:
a hazelnut crust, an oozing blood orange center, a blood orange custard, and a dark chocolate ganache
Enjoy!
HAZELNUT CRUST
Preheat oven to 325 degrees Fahrenheit
INGREDIENTS
1/4 cup toasted hazelnuts
3/4 cup all purpose flour
2 tablespoons sugar
pinch of salt
70 grams chilled unsalted butter, cut into cubes
1 egg yolk
ice water
DIRECTIONS
Lightly grease your tart shells. Using a food processor, pulse the hazelnuts until finely ground. Add in the flour, sugar and salt and pulse until mixed.
Add in the butter and process until the mixture is sandy in texture. Add in the egg yolk and process, adding in a little ice water until a dough forms.
Section the dough into 25 gram balls and then mold into the tart shells.
Place into the refrigerator for 30 minutes. Bake the shells for 10 minutes, or until slightly golden.
BLOOD ORANGE CENTER
INGREDIENTS
1/2 cup blood orange juice
2 tablespoons sugar
1 tablespoon corn syrup
pinch of salt
DIRECTIONS
Place all the ingredients in a small sauce pan over medium heat. Cook until a thick syrup coats the back of the spoon. For reference, the mixture should be similar to that syrup that oozes out of cordial cherries. The reduced mixture should measure out to be 1/3 cup.
Pour into molds, such as mini cupcake tins, small enough to fit into your tart shells, and freeze until solid.
BLOOD ORANGE CUSTARD
INGREDIENTS
1 can sweetened condensed milk
1/4 cup sour cream
3/8 cup blood orange juice
2 teaspoons blood orange zest
DIRECTIONS
Preheat oven to 325 degrees Fahrenheit
Put all the ingredients in a medium sized bowl and whisk until just combined.
Place a frozen cube of orange syrup in the center of each of the tart shells, and pour the custard on top, filling it up close to the rim. Bake for 10 minutes or until the mixture bubbles. Chill thoroughly.
DARK CHOCOLATE GANACHE
INGREDIENTS
4 oz. good quality dark chocolate
6 oz. heavy cream
DIRECTIONS
Put both ingredients into a microwave safe bowl, and heat until the chocolate melts, and mixes into a smooth ganache. Alternatively you could do this the traditional way and heat up some cream and pour it over finely grated chocolate. You may also add either corn syrup or a few pats of cold butter to get a nice shine.
Spoon roughly 1 teaspoon of ganache on top of each tart shell, swirling and tapping until it settles into a smooth surface. Allow to cool and set before serving. Garnish with a candied orange peel or chocolate decorations.