Pin It
Let's get to the straight to the point.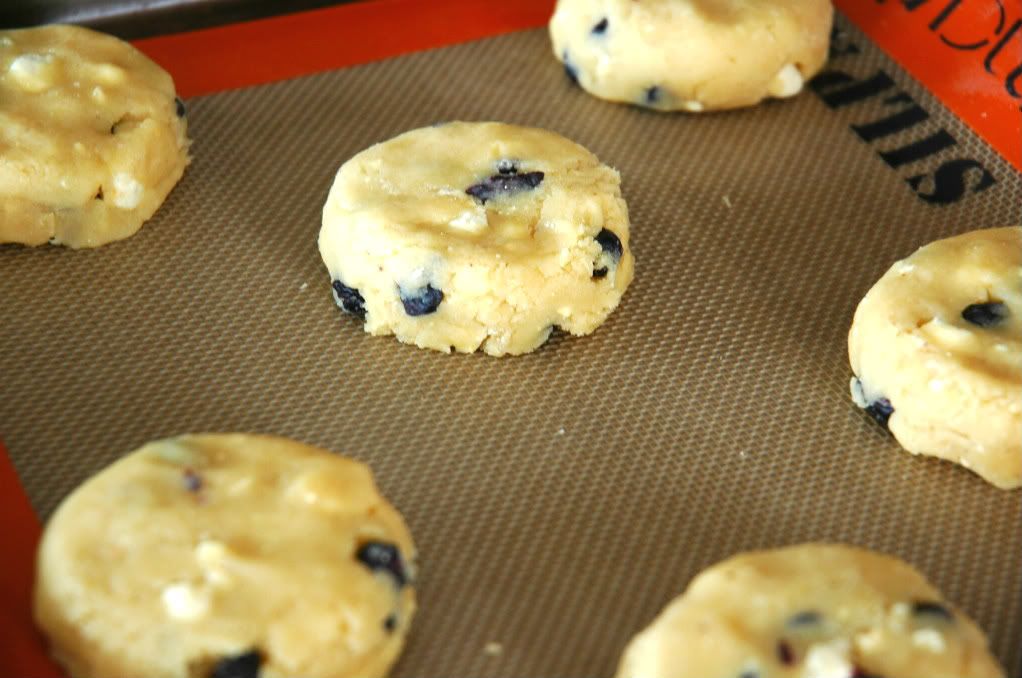 Blueberry and Cream Cookies. Heaven in one chewy, sugary, addicting, uplifting, life changing, (and on with the exaggerative adjectives) bite. These are a must make if you want to find a potential replacement for a chocolate chip cookie for the moment, or just want something different.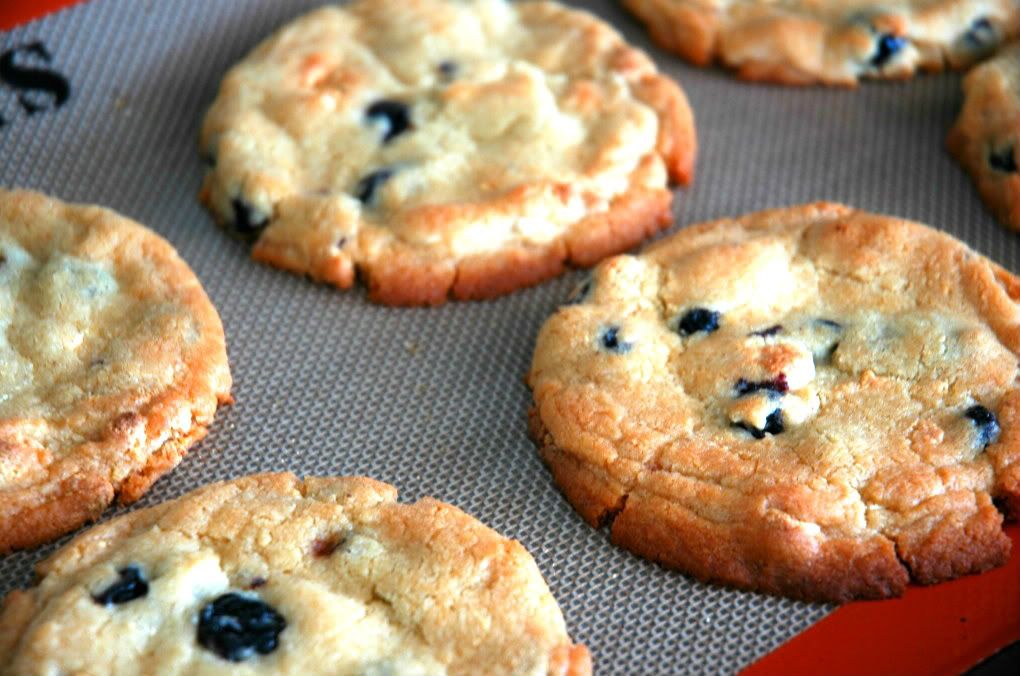 Though extremely odd for a teenager like me, I love roaming around Williams & Sonoma, Joannes, Hobby Lobby, and Bed, Bath & Beyond. I am always the youngest person there aside from the crying child in the stroller or the elementary schoolers running around at the risk of breaking something while their mother is contemplating the white colored plate set or SHOCK, the ivory colored plate set.... What to do, what to do.
Anyway, if any has tried out any of the samples of the Momofuku cookie mixes at Williams & Sonoma lately, they will understand why I was so eager to replicate these jewels. Not everyone lives in New York and can get their hands on the real stuff, but otherwise, we can fill our homes with the sweet, lingering aroma of these blueberry cookies. Tantalizing.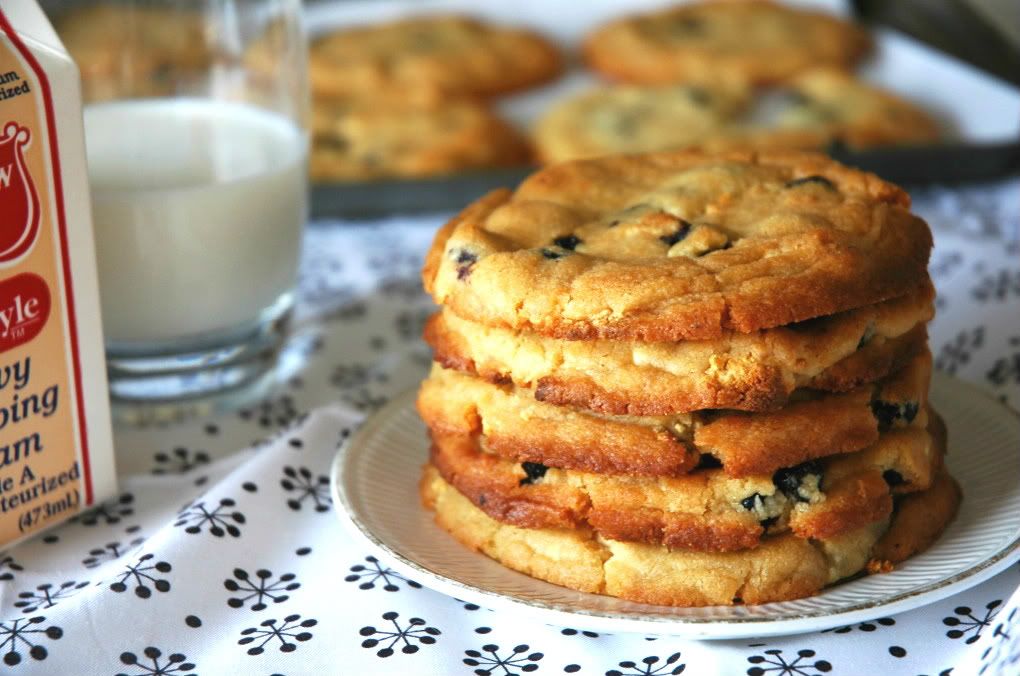 They look super buttery here... which certainly isn't misleading
Glucose. Is that a common ingredient? I would like to assume that it is an ingredient most of us don't have on hand in our pantries at all times. When Target is your cooking supplies mega-mart, you are trotting out with some market pantry brand flour and sugar, not some grade A ingredients. This is why I was dumbfounded when I read glucose as one of the main sweeteners in this recipe. Then for some odd reason I began to run through the steps of glycolysis and the amount of ATP is produced etc. I am such a nerd. Anyways, I'm not quite sure if you can substitute other syrups such as corn syrup for the recipe because the glucose lends itself to the desirable chewiness. Then again, the glucose container I bought only states corn syrup under its ingredient list. Confusing, huh? If you want glucose, you can find a Wilton brand glucose at a craft store with a baking section. Coughing up $5 may be tough for some, but garner up your strength because these cookies are DELICIOUS!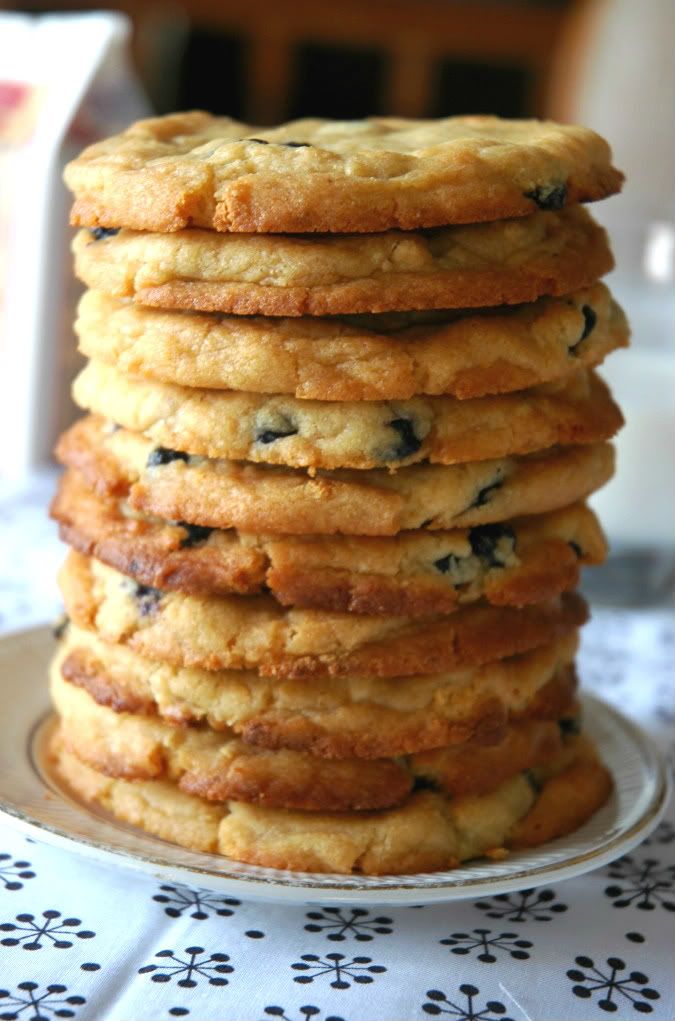 My giant stack of cookies!
The recipe I posted below are from Martha Stewarts website. The volume of work is tedious, but the end product is worth it. My oven runs hot, so I ended up baking these for about 10 minutes instead of 15, so be sure to keep your eye on these as they bake. No one likes burnt cookies! In fact, I liked the taste of the cookies I under baked a tad bit more than the ones that were well done.
Momofuku Blueberry-and-Cream Cookies
2 1/2 cups all-purpose flour

1/4 teaspoon baking powder

1/8 teaspoon baking soda

2 teaspoons salt*

1 cup unsalted butter

1/2 cup plus 2 tablespoons white sugar

1/2 cup plus 2 tablespoons light-brown sugar

1/4 cup glucose

1 large egg

3/4 cup dried blueberries

1/2 cup plus 1/3 cup Milk Crumbs
Line two baking sheets with parchment paper; set aside.

In a large bowl, mix together flour, baking powder, baking soda, and salt; set aside. In the bowl of an electric mixer fitted with the paddle attachment mix together butter, sugars, and glucose until well combined. Add egg and mix until well combined.

Add flour mixture and mix until well combined. Add blueberries and milk crumbs and mix until well combined. Using an ice cream scoop about 2 1/8 inches in diameter, scoop dough into balls and place about 2 inches apart on prepared baking sheets.

Preheat oven to 375 degrees. Transfer baking sheets to refrigerator until dough is chilled, about 15 minutes. Transfer baking sheets to oven and bake, rotating pans halfway through baking, until cookies are golden brown and tops begin to crackle, about 15 minutes. Transfer cookies to a wire rack to cool.
Milk Crumbs
1/4 cup plus 1 tablespoon nonfat milk powder

2 tablespoons all-purpose flour

1 tablespoon cornstarch

1 1/2 teaspoons sugar

1/8 teaspoon salt

1 1/2 tablespoons unsalted butter, melted

1/4 cup white chocolate, melted
DIRECTIONS
Preheat oven to 225 degrees. Line a baking sheet with parchment paper; set aside.

In a medium bowl, whisk together 2 tablespoons plus 1 1/2 teaspoons milk powder, flour, cornstarch, sugar, and salt. Stir in melted butter until well combined. Spread mixture on prepared baking sheet and transfer to oven. Bake until dried and crumbly, 8 to 10 minutes. Remove milk crumble from oven and let cool completely.

T

ransfer milk crumble to a large bowl and fold in remaining 2 tablespoons plus 1 1/2 teaspoons milk powder and white chocolate. Use immediately or transfer to an airtight container and keep refrigerated until ready to use.
* You may want to decrease this to 1 teaspoon. My cookies had too much of a salty background flavor for my liking when I followed this recipe exactly.