Pin It
Remember handing out your valentines to your classmates in elementary school? If I could go back, I would pass out these cupcakes instead of those candy hearts with the printed messages like "I luv u" or "Be mine". Admit it, they are kind of gross unless they are the sweet tart flavored ones. Otherwise they're chalky and crumble in your mouth, but not in the good way.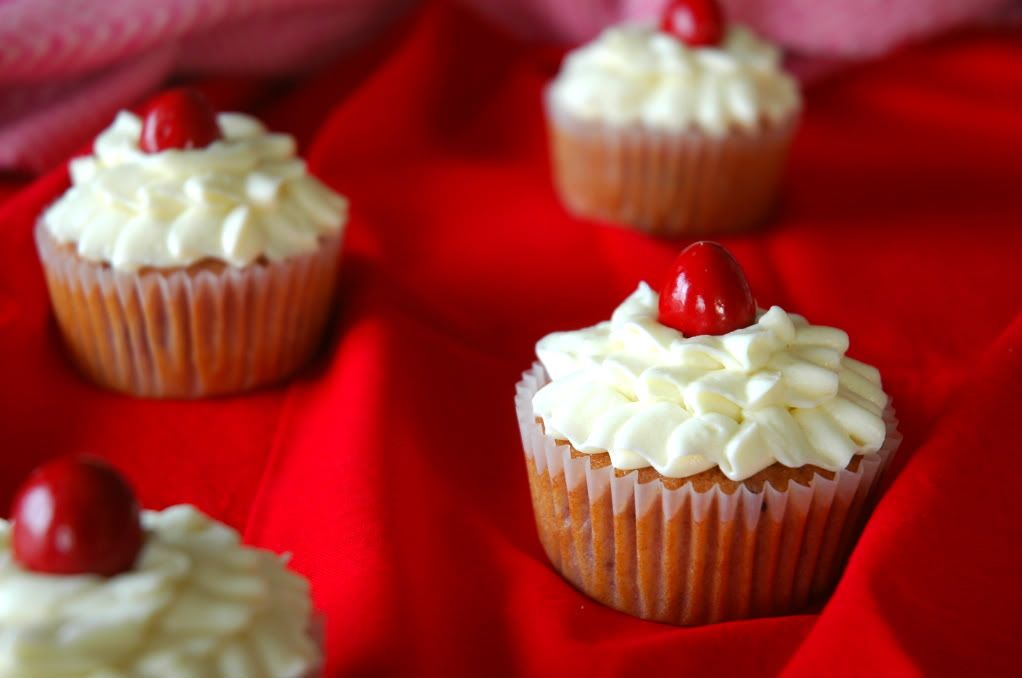 I'm not too big on the Valentine's Day craze. However, I enjoy reading the hallmark cards at the grocery story while I smirk and cringe at the same time. Who comes up with the stuff that is written on these cards!? Romantic? No. Cute? Ehhh, depends. Hilarious? Yup. I won't be the love killer, so here's one of my new favorite songs and it fits the Valentine's Day feeling... sort of. It depends on what context you put the lyrics in. Haha, you'll understand once you watch the video. My sister introduced me to Ed Sheeran, and I'm glad she did. I love acoustics, and if you're a fan of Ron Weasley (Rupert Grint) from Harry Potter, watch this cute video! It will give you a little chuckle:)
I wanted to post these cupcakes before the holiday rolled around, so I ended up making my Momofuku Blueberry cookies this weekend as well. Check those out
here
! Too many dishes, copious amounts of butter, and excessive quality control tasting. I am a baker who tastes the batter throughout the entire process to ensure I didn't do anything wrong. I also have the tendency to taste each separate ingredient along the way. I'm just so curious as to what they taste like alone. From my experience, melted butter and bittersweet chocolate has made my tongue shrivel in disgust, a drop of vanilla extract made me tear up because it was so bitter, peppermint extract does not equate to the wintery fresh feeling of toothpaste, and lemon zest, well that was just a bad, bad idea. I guess sugar makes everything better! I've also noticed that I never produce the volume of goods a certain recipe yields. I just need to stop spoon licking now don't I?
Enjoy!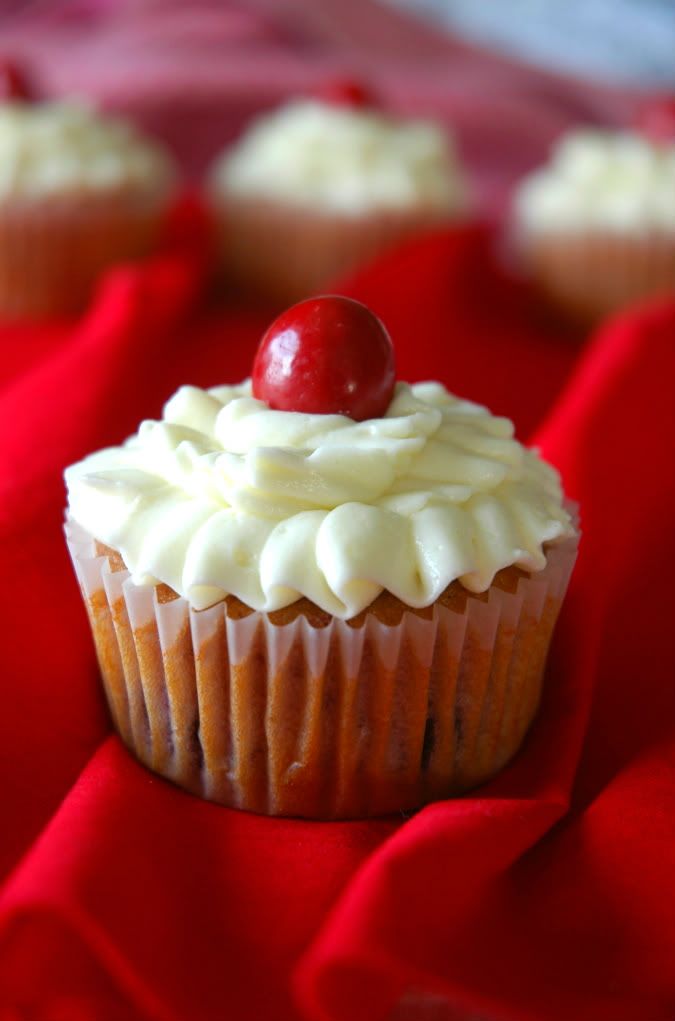 Dark Cherry Cupcakes
Yields ~15 cupcakes
INGREDIENTS
1 1/3 cups all-purpose flour
1 1/2 teaspoons baking powder
small pinch of salt
1/2 cup butter (1 stick), room temperature
3/4 cup + 2 tablespoons sugar
2 eggs
1/2 cup buttermilk
1/2 teaspoon vanilla
10 oz frozen, pitted, dark cherries*
DIRECTIONS
Preheat oven to 350 degrees Fahrenheit
Places the frozen cherries into a bowl and microwave on high for 3 minutes. They should be defrosted, leaving you with a mixture of the cherries and their juices.* Once the cherries have reached this state, mashed them up a bit with a fork, and then let them cool while you proceed with the rest of the recipe.
Sift together the flour, baking powder, and salt. Set aside.
Microwave buttermilk until slightly warm. Roughly 20 seconds. Stir in vanilla.
In a large mixing bowl, beat the butter for 1 minute on medium high speed. Add in the sugar and continue to beat at the same speed until the mixture is fluffy.
Add in the eggs one at a time, waiting to add each consecutive one until the mixture is homogenous. Whip until fluffy.
Now add the flour in three parts, alternating with the buttermilk and vanilla. Once all the dry ingredients have been moistened, add in the cherry mixture and beat until well combined. Fill the cupcake liners up 3/4 of the way. Bake for 15 minutes or until done.
Almond Frosting
INGREDIENTS
2 tablespoons flour
3/4 cup milk
3/4 cup sugar
3/4 cup butter (1 1/2 sticks)
1/2 teaspoon almond extract
1/4 teaspoon vanilla
1 1/2 cups powdered sugar**
DIRECTIONS
Cook the milk and the flour over medium heat until thick. Pour into another bowl and place parchment paper on top to prevent a skin from forming. Let it cool to room temperature.
Beat the butter and sugar until fluffy. Beat in the flour mixture and beat on medium high speed until the frosting is fluffy and significantly lighter in color.
Add in extracts, and beat in the powdered sugar. Use immediately.
NOTES:
* It should measure out to be roughly 1 1/2 cups of cherries, however I do advise weighing this ingredient! If you use maraschino cherries, you probably can use less than 10 oz to get enough flavor.
** The stiffer your frosting is, the sharper the ruffles will look. Add more or less powdered sugar to get your desired look.
DECORATING:
To get the ruffled effect, use a petal/teardrop shape tip (I used No. 104 from Wilton) and starting from the outside, pipe while wiggling the piping bag to get the ruffles. You will keep moving toward the center as if you're making concentric circles. Once you approach the center, piping the ruffles gets difficult, so no worries if it doesn't look as pretty as the other layers. You can top it off with a chocolate covered cherry or any other type of candy to cover up the shabby looking buttercream. It doubles as a decoration and built in photoshop.