Pin It
You know, I initially wanted to make turtle cookies that looked like the actual animal. I had it all envisioned -- a fat head and plump little flippers. Well given the time of the year and my shabby sculpting skills, heart shaped turtle cookies seemed like the better choice. Maybe my turtles will take form in icebox cookies later this year. Oh, which reminds me, Happy Lunar New Year! I hope those on the east coast got to celebrate!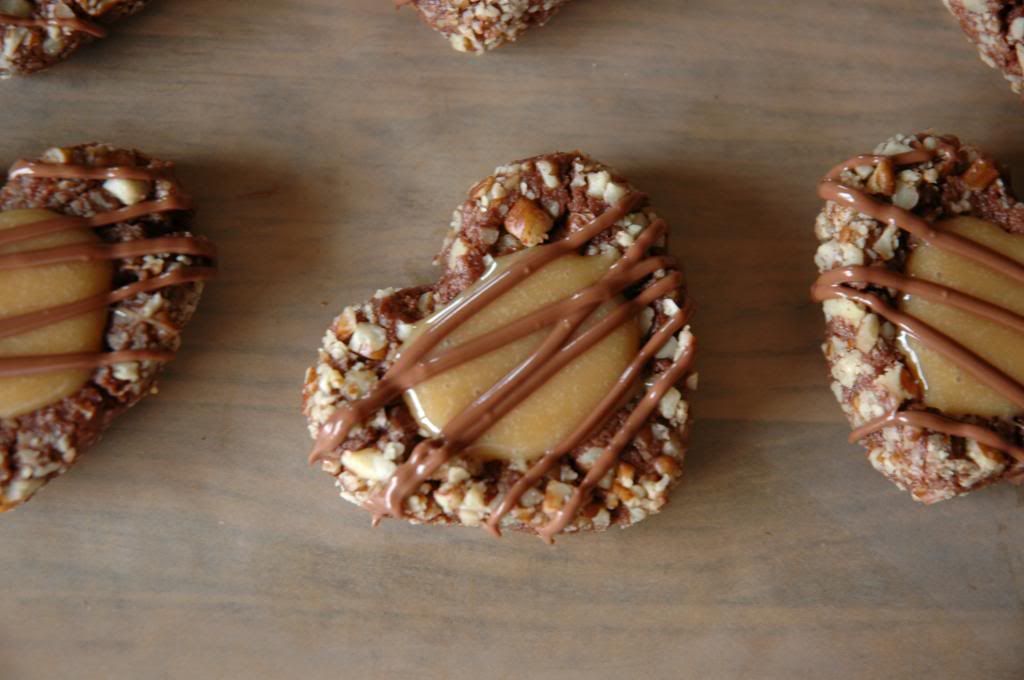 To make these special, I added a bit of sea salt to the caramel mixture and drizzled milk chocolate on top to finish them off. The chocolate cookies are soft, the caramel gooey, and I have eaten too many already. Make these yourself and give them all away before you feel guilty after stuffing your face.
My tips for these cookies:
Freeze the hearts before baking so they can better retain their shape. Pop them in the freezer for 30 or so minutes until firm. (I ended up just watching the latest Big Bang Theory episode. Oh Sheldon is just too funny.)
Use more or less cream for the center depending on how gooey you want the caramel. If you use the full amount, the caramel will not set very well, so it would be difficult to pack these to give away.
I ended up baking these for 18 minutes instead of the 12 minutes recommended.
Not to be OCD or anything, but if you want to obtain the full yield each dough ball should weigh around 15-16 grams before you add the pecans.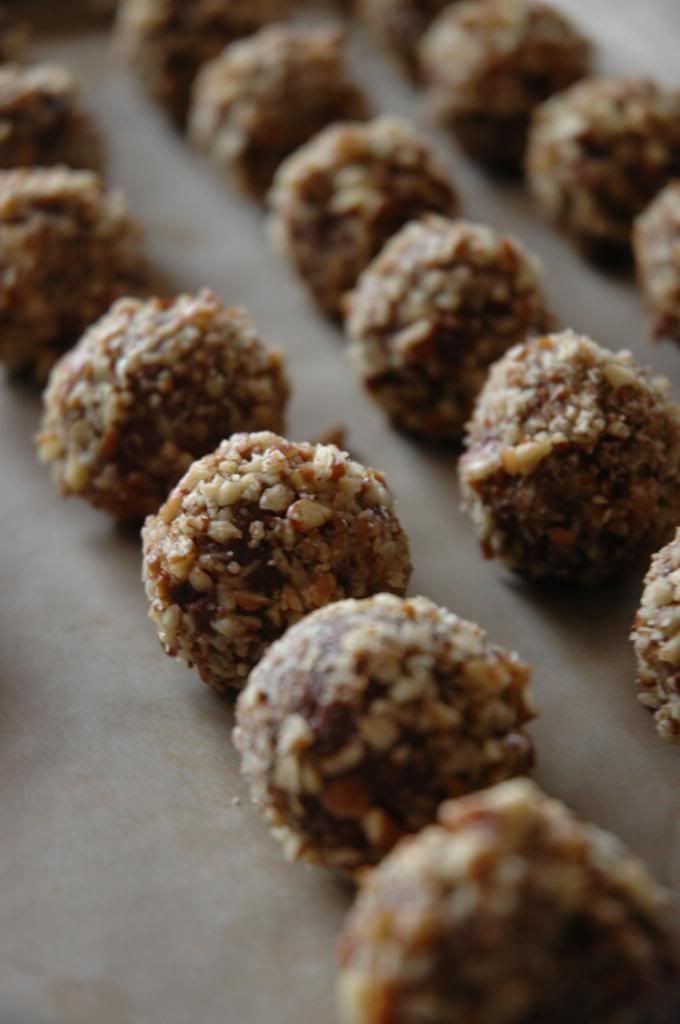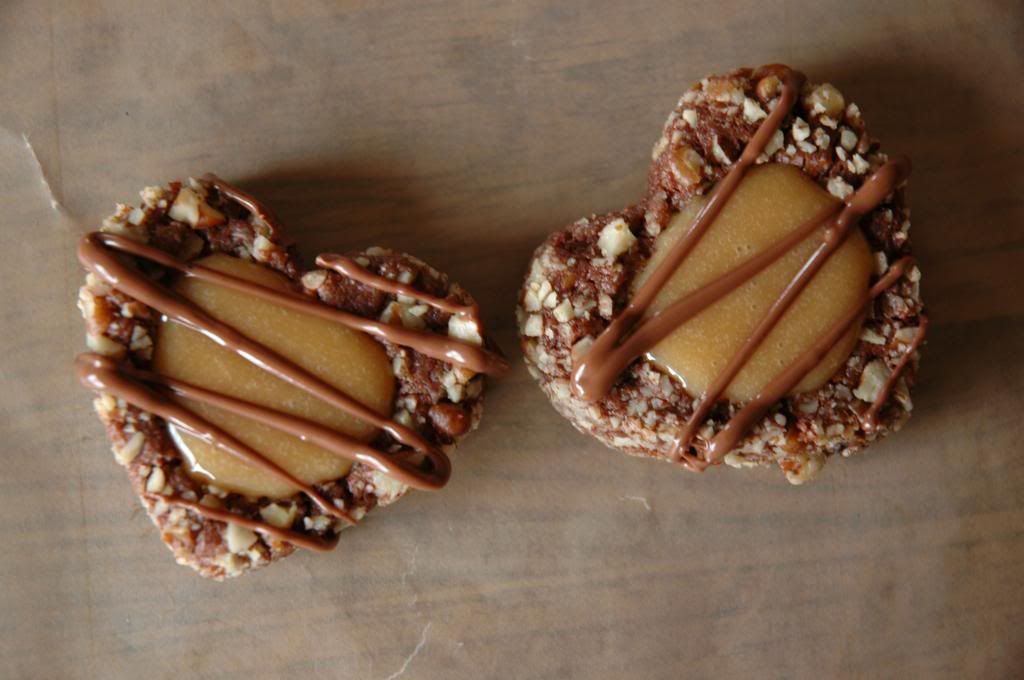 Here's a little tutorial!
(I resized these pictures to be smaller because they came out quite blurry. Sorry!!!)
Plop a cookie into the center of a small heart shaped cookie cutter.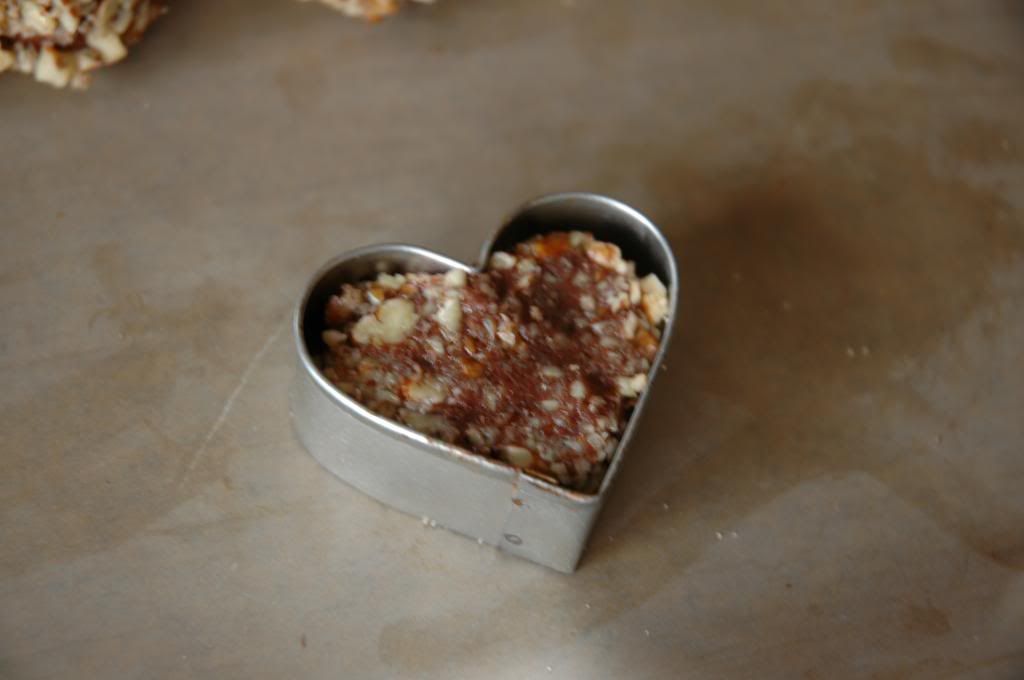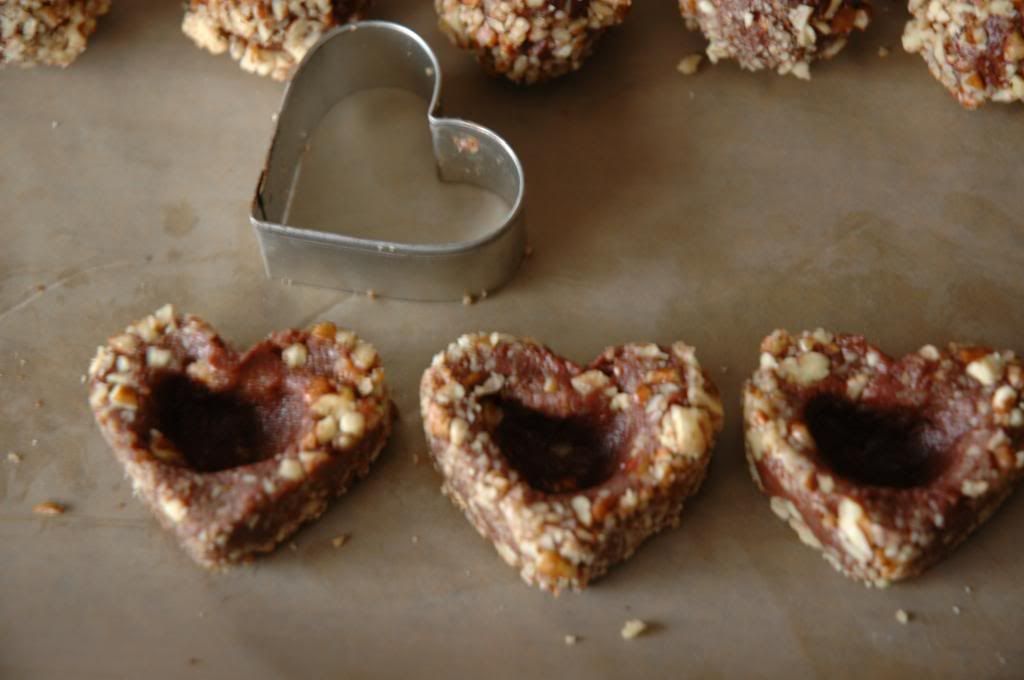 Gently press the dough into the shape of the cookie cutter.
Using a teaspoon, or your fingers, make an indentation in the center. Gently push the the heart out of the mold.
Salted Caramel Turtle Heart Cookies
INGREDIENTS
From America's Test Kitchen
Yields 2.5 dozen cookies
1 cup all-purpose flour

1/3 cup cocoa powder

1/4 teaspoon salt

8 tablespoons (1 stick) butter, softened

2/3 cup sugar

1 large egg, separated, plus 1 egg white

2 tablespoons milk

1 teaspoon vanilla extract

1 1/4 cups pecans, chopped fine

14 soft caramel candies

3 tablespoons heavy cream

1/2 teaspoon sea salt (optional addition to caramel)

milk chocolate to drizzle
DIRECTIONS
In a large bowl, combine flour, cocoa, and salt; set aside. In the bowl of a stand mixer fitted with the paddle attachment beat butter and sugar on medium-high speed until fluffy, about 2 minutes. Add egg yolk, milk, and vanilla and mix until incorporated. Reduce speed to low and add flour mixture until just combined. Wrap dough in plastic wrap and place in the refrigerator until firm, at least 1 hour.

Adjust oven rack to upper-middle and lower-middle positions and heat oven to 350 degrees F. Line 2 baking sheets with parchment paper.

In a small bowl, whisk 2 egg white until frothy. In a shallow bowl, place pecans for rolling. Roll a heaping tablespoon of dough, dip in egg whites, then roll in pecans. Place balls 2 inches apart on prepared baking sheets. Repeat with the remaining dough

Using a teaspoon measure spoon, make indentation in center of each ball. Bake until set, 10 to12 minutes, rotating sheets halfway through baking.

While cookies are baking, microwave caramels and heavy cream in medium bowl, stirring occasionally, until smooth, 1 to 2 minutes; set aside.

Once cookies are removed from oven, gently press existing indentations with teaspoon measure. Fill each indentation with 1/2 teaspoon caramel mixture. Cool 5 minutes, then transfer to wire rack and cool completely.